Feta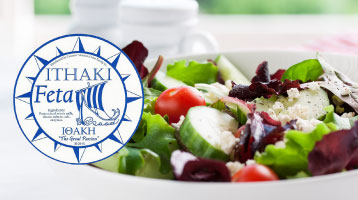 Our feta cheese is exactly what you'd expect from the delicious Greek-inspired flavor. In fact, because feta makes up 70% of the cheese consumption in Greece, we work hard to create the same great taste. With just a little bit of salt and tang, this cheese will transport your taste buds straight to the Mediterranean. We recommend crumbling our feta onto a Greek salad or slicing it to enjoy with nuts or crackers. Feta pairs especially well with roasted red pepper and olive oil. If you're looking for a wine to pair it with, try a nice Pinot Noir or Sauvignon Blanc. If you aren't a wine drinker, it also pairs well with beer.
If you'd like to try a delicious recipe with our feta, we recommend you try this recipe for Baked Feta Pasta.
---
Cheddar
Cheddar is the most consumed cheese in the entire world, but that wasn't always the case. In fact, many centuries ago, England was the only country who produced it. Our cheddar plays homage to the cheddar of old with traditional creamy and sharp flavor. It will melt in your mouth and pairs well with a big, juicy burger, on a melty grilled cheese or as a few slices to snack on. If you're looking for southwestern flavor with your cheddar, we make Green Chile or Chimayo cheddar. Both make for the perfect addition to Tuesday night's tacos.
---
Monterey Jack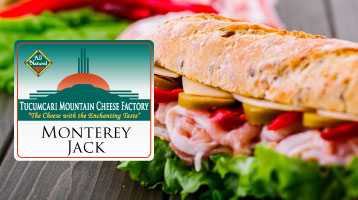 Known for its mild flavor, Monterey Jack is a true American cheese. It originated in Monterey, CA and now we make it in New Mexico. It is commonly the white cheese found on many Mexican dishes because it is the easiest cheese to melt. Because Monterey Jack is such a mild cheese, it pairs well with other flavors. We have several variations of our Monterey Jack, such as Sundried Tomatoes and Basil Jack and Green Chile Jack. If you're in the market for a good wine to have with any of our variations, we recommend Riesling or Pinot Noir.
---
Asiago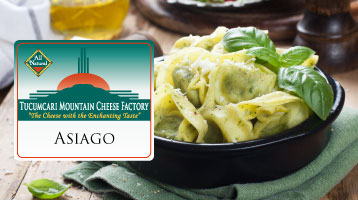 Our Asiago is very versatile. Grate it, melt it, or slice it as a topping for a variation of foods. It has a mild, creamy flavor. It originated on the Asiago Plateau of Veneto, Italy. We recommend using it in Italian dishes like lasagna. If you're using our Asiago to top off your spaghetti dinner, be sure to open a bottle of Merlot to enjoy with it.
---
Gouda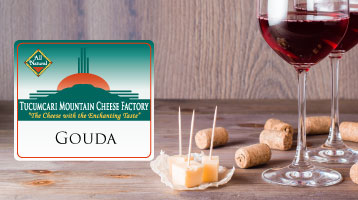 This Dutch-inspired cheese, pronounced by locals in the Netherlands as "How-da," is popular around the world. Gouda makes up roughly 60% of the cheese consumption. Our Gouda is creamy and nutty, with the slightest sweetness. Pair it with deeply rich flavored wine, such as Shiraz or Merlot. We recommend using it as a table cheese or to richen soups and sauces. If you'd like a more robust flavor, we also make a variation of our original Gouda that we smoke. The flavor pairs great with an ice, cold beer.
---
Romano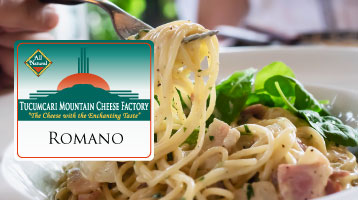 If you're looking to transport straight to Rome for a delicious, classic Italian dish, our Romano is the perfect for you. With flavors that date back to the beginning of the century, our Romano is sharp and tangy. Most grate it over pasta dishes like Manicotti and Penna alla Vodka. The best wine pairing to marry with our Romano is a sweet Prosecco or Riesling. This is even more true when used as a table cheese.
---
Edam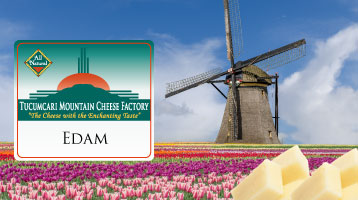 Much like Gouda, Edam originates from the Netherlands. One bite of our Edam and you'll transport to a field of flowers alongside a big windmill in Holland. It is one of the drier cheeses we make. With a mild, nutty flavor, it goes well with pears and apples or with crackers or biscuits. Because the flavor is mild and only a little salty, it pairs well with most dry wines. You could pick up a bottle of Pinot Gris, Champagne, Chardonnay, Shiraz, or a dry to semi-dry Riesling.
---
Cotija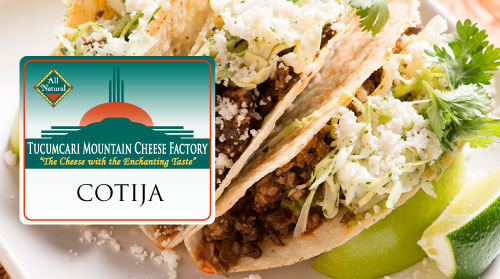 Cotija is a Hispanic-style cheese named after the town of Cotija in the Mexican state of Michoacán. This hard, crumbly Mexican cheese comes from cow's milk.
Since, Cotija cheese is very salty, strongly flavored, firm and does not actually melt. We recommend using it grating on salads, soups, casseroles, tacos, tostadas and chili. In Mexico, it is also widely used to enhance the flavor of many savory dishes. Mix it straight into the casserole or recipe. In the U.S. it is increasingly popular on pasta. It is typically shredded onto cooked foods, also in salads and with fruit.