The Cheese-Making Duo

A few blocks north of Route 66 in Tucumcari, N.M., stands one of the largest feta producers in the Southwest with rich history. Tucumcari Mountain Cheese Factory.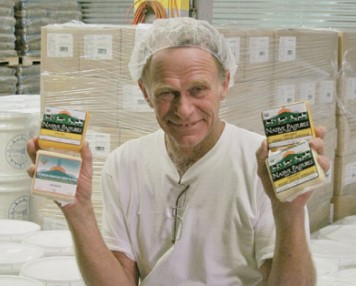 Chuck Krause, co-owner & plant manager, came to Tucumcari from Wisconsin. He was looking to start a cheese plant after hearing about dairy farms expanding in the area. Krause is a fourth-generation cheese-maker who learned cheese-making from his father. His father owned a plant near Green Bay, WI that produced top-of-the-line cheddar for Kraft. His dad sold his plant in 1988, and Chuck ended up working for the buyer. While employed there he was responsible for launching cheese plants throughout California.
Upon relocating to New Mexico in 1995, Chuck made his dream of creating a cheese factory a reality. He found a former Coca-Cola bottling plant that would make a perfect cheese plant. He soon after began wrangling used equipment at auctions and began manufacturing cheese.
Krause first began making cheddar. But since, cheddar takes a long time to age, and Krause faced stiff competition. Looking for a different niche, he tried feta, which is a fresh cheese that takes only 24 hours. Determined, he worked hard to make his plant grow! And today, buyers come knocking from all over the United States.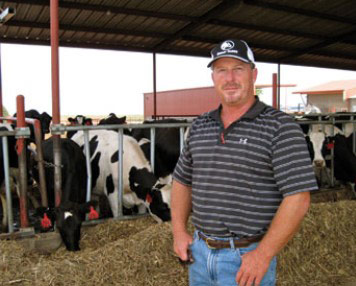 Art Schaap joined Krause in the cheese-making adventure in 2009. Now, the Schaap family dairies are proud to be the only milk-provider for the plant.
Art's father, Andy Schaap, immigrated to the United States from Holland in the 1950s. Their family relocated from California to New Mexico in 1977 and began milking 400 cows on one farm. The Schaap family now has 10 dairies in Eastern NM and West Texas.
Close to 10 years ago, Schaap bought a farm to produce feed for the cattle on his dairies. Nothing goes to waste at Schaap Dairies. The farms recycle animal nutrients as fertilizer. They haul milk to market and back haul liquid whey from the factory to feed the cows.
Schaap is working with his business partner, Krause to integrate the dairy with the cheese factory. More than 90% of Schaap milk goes towards the production of cheese.
Although feta makes up 95% of the plant's output, the cheese-making duo also make other varieties. These include cheddar, cheddar jack, Gouda, monterey jack, and green chile jack. They also produce Asiago, which is an Italian cheese like Parmesan. For custom orders, they will even add chile, tequila and roasted garlic. So if you're in the market for some good cheese, look no further than Tucumcari Mountain Cheese and Ithaki.
---
Tucumcari Mountain Cheese
Address: 823 E Main St. Tucumcari, NM 88401
Phone: (575) 461-4045